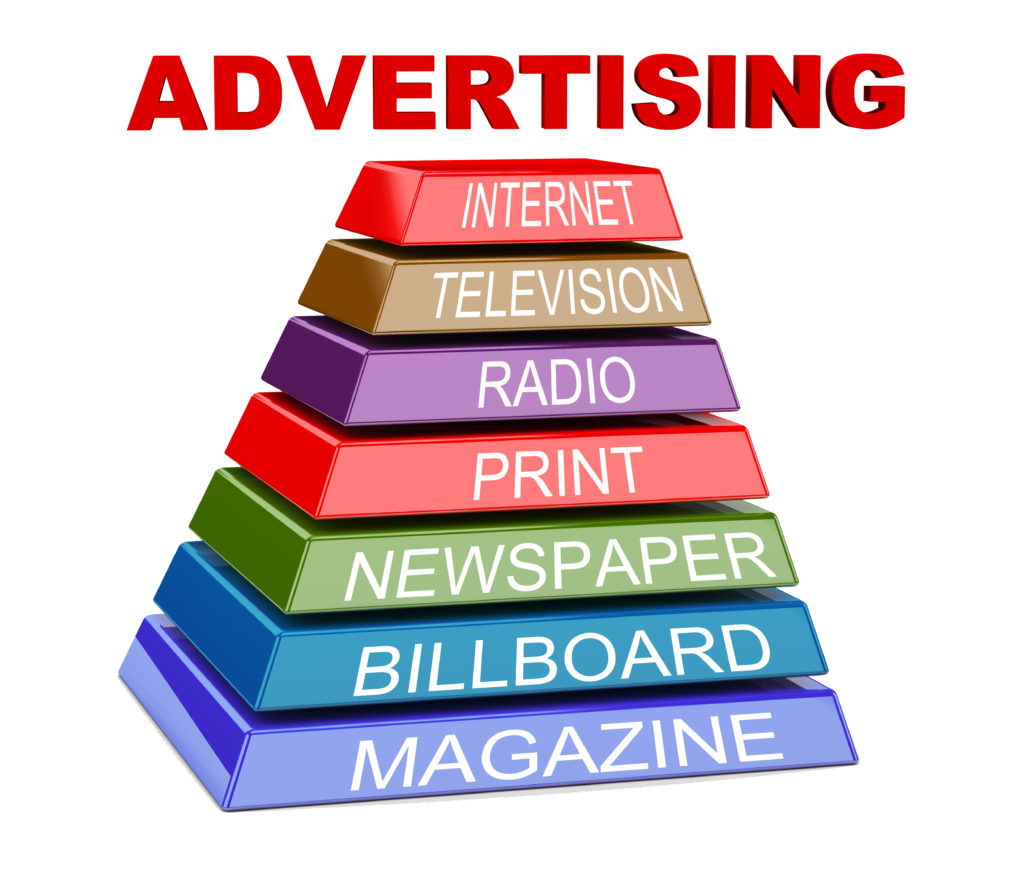 "A man who stops advertising to save money is like a man who stops a clock to save time" ~ Henry Ford
Advertising is the cornerstone of business today. Whether you have a product or service to sell, you must be able to inform the American public that you are available and open for business. Advertising is essential in all business regardless whether you are selling to consumers or other businesses. Everyone must be informed that you exist and this is where advertising enters the picture.
Traditional advertising is still very successful in most markets. TV and Radio advertising are still effective ways to create top-of-mind awareness for your products. Phone Books have seen a decline in usage in some markets, but smaller markets still find Phone Book advertising to be very successful. Outdoor Advertising (billboards, etc) are still very effective in driving the same top-of-mind awareness as TV and Radio except in a static format. Absolute Marketing Solutions can help you reach your customers. We will consult with you to determine your target market and then develop a comprehensive advertising plan to reach your customers in the most cost effective manner.
Absolute Marketing understands these different media outlets and we negotiate the best deal possible for the different media. TV stations pay us directly, so you do not pay us any commission. You will pay the same regardless of whether or not you use us. In regard to other media such as Radio, Print, Outdoor, etc., we charge a 15% commission unless other arrangements are made with the media outlets. We will take care of all billing and placing the buy and making sure the commercials and/or ads run when they should, so why not use us to do all this for you!
We will help you through the entire process from writing the ad copy or script to placing the media buy. We will help you determine whether your company would be better suited to advertise on TV, Radio, Phonebook, Print, or Outdoor.
New Products
Pre-Roll
Pre-Roll is the process of inserting commercials on YouTube and other video services such as Vimeo or Vevo. Absolute Marketing has partnered with Spectrum Reach to offer companies this product. Absolute Marketing is compensated from Spectrum Reach, so it makes sense for us to help you with this type of advertising since our services are free!Pre-Roll Brochure
Targeted Display Advertising
Through the use of technology such as Household Targeting, Geofencing, Rich Media Execution, and others, Absolute Marketing can place a display ad in front of potential customers which will then follow them for up to 3 clicks around the web before dropping. This has been proven to increase awareness and purchases. Ad Recall is an essential part of the future of digital advertising. This is why when a consumer searches for an item on a site such as Amazon and then the same product appears when that same consumer logs into Facebook. Absolute Marketing has partnered with Spectrum Reach to bring this product to our clients. Once again, Absolute Marketing is compensated from Spectrum Reach, so it makes sense to allow us to help with this type of advertising since our services are free! Display Brochure
Next Steps:
Contact Us here and we will respond within 24 hours to set up a meeting to discuss your marketing goals. We look forward to hearing from you!
Click here to access our pricing sheet.*
*some new products may not be on the pricing sheet. If the product of interest is not listed on the sales sheet, please contact us to find out pricing.